22 April 2021
LocatED is proud to have met the challenges posed by a competitive market, the unique constraints of the site, and restrictions necessitated by COVID-19, to deliver an outstanding result for the education estate, and for Fulham Boys' School.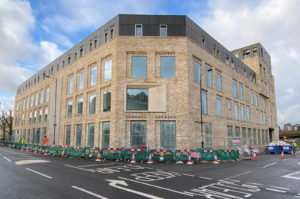 Fulham Boys' School opened on its provisional site in 2014. However, given the school's central location, LocatED's team knew it would be difficult for Fulham Boys to find a permanent home. 
Over 40 potential sites were reviewed in the area, amid limited availability and strong competition from developers looking to develop sites for residential use. 
The (now former) Metropolitan Police station on Heckfield Place was secured in June 2016. Working closely with the Greater London Authority (GLA) and the Metropolitan Police, LocatED secured planning permission for a school building for 800 pupils, re-provisioning the police facilities and nine penthouse apartments, with the latter offsetting the school construction and site costs.
But the challenges of the project did not end with securing a site. The lot's constrained size (0.724 acres versus the recommended 12.11 acres for a school of this size), along with tight site boundaries,  including a supermarket car park access ramp, pressed our team to find a creative design solution to deliver the required facilities, including a double basement and sports hall. The construction was complex and towards the end, challenged by restrictions in place due to the COVID-19 pandemic.
Nevertheless, our team's effort has resulted in a building with efficient space planning and outstanding design quality.
The project was procured in an open competition, and Fulham Boys' School opened its doors in February 2021.