5 November 2021
We are delighted with this latest step forward to create a workplace that ensures all of our team members and partners can thrive.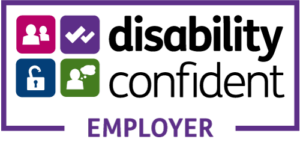 Earlier this year, LocatED was pleased to receive its Level 1 Disability Confident Committed status. Today, we are thrilled to announce that we have achieved Level 2 Disability Confident Employer status, furthering our progress and our commitment to recruiting, retaining, and developing talent in a diverse and inclusive workplace. We are looking forward to making more progress in the coming months as we prepare to advance to the third and final level, Disability Confident Leader.
The Disability Confident movement works with employers to ensure that people with disabilities and those with long-term health conditions have the opportunity to fulfil their potential and realise their aspirations. 
More information about the Disability Confident movement can be found here.