24 November 2021
The accreditation recognises LocatED's commitment to making work better.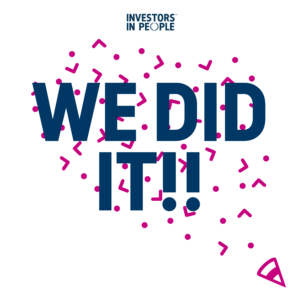 Investors In People has awarded LocatED its We Invest In People, standard accreditation. This recognises LocatED's commitment to principles and practices geared toward supporting everyone in the workplace and ensuring that all team members are aware of how to use these practices to make work better.
Among the strengths highlighted in the Investors In People's assessment report was LocatED's investment in its team members, its approach to performance management, communication, and the strength of collaboration across the oragnisation, along with the team's enjoyment of its work.
"This has been a really wonderful time for LocatED," says Chief Executive Lara Newman. "Not only are we seeing the sites that we've helped to source open their doors as schools; we are also seeing the benefits of the collaborative, supportive culture that underpins our  work."
Paul Devoy, CEO of Investors in People, said: "We'd like to congratulate LocatED. Being accredited with the We Invest In People is a remarkable effort for any organisation, and places LocatED in fine company with a host of organisations that understand the value of people."
About Investors In People
Investors In People is dedicated to helping leaders, employees, and companies work together to create an effective environment. Investors In People has accredited over 50,000 organisations in 66 countries across the world, furthering its mission to make work better by providing accreditation and advice on how to improve an organisation's efficacy over time.