5 March 2021
LocatED commits to 'earn and learn' by joining The 5% Club
LocatED has showcased its commitment to developing its people by joining The 5% Club, an industry-led initiative focussed on driving momentum into the recruitment of apprentices, graduates and sponsored students.
The 5% Club, initiated by Leo Quinn Group Group CEO of Balfour Beatty in 2013, is a movement of more than 500 employers providing 'earn and learn' opportunities to develop the skills and talents people need to become more employable and create meaningful careers. Companies joining The 5% Club commit to raising the number of apprentices, sponsored students and graduates on formal programmes to 5% of their total workforce within five years. Members are also asked to publicly report their progress in their Annual Report. Existing members range from SMEs to FTSEs and cover a number of diverse industries, from engineering through to the legal sector.
Julie Noble, Chief People Officer at LocatED said:
"We were all very keen to join The 5% Club to be part of a team that is as committed as we are to developing the workforce of the future. We relish the opportunity to learn further best practice from like-minded individuals and teams to continue to improve what we offer."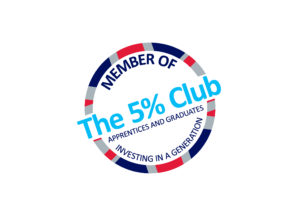 Since LocatED's creation in 2016, the company has been committed to developing its employees and has introduced a range of programmes for young people. This includes a successful Graduate Surveyor Programme which supports the completion of the RICS Assessment of Professional Competence (APC), through hands-on practical experience and structured learning. So far six employees have successfully completed the programme with another two fast approaching the finish time. LocatED built on this success by introducing its first Apprenticeship Surveyor Programme in 2020 – which is just about to finish its first year. LocatED has supported two employees to complete their Chartered Institute of Personnel & Development qualifications and currently has one person completing a Finance Apprenticeship.
LocatED also has a Young Persons' Programme to provide internships and work experience at LocatED and offers a clear path for personal and professional growth as key elements of the company's Corporate Social Responsibility Policy. All this in a 60-person organisation!
Gill Cronin, Director of Operations of The 5% Club said,
"We're delighted to welcome LocatED into membership. The 5% Club provides a fantastic network of HR professionals, sharing and learning from each other. All our members share an ethos of creating a skilled workforce through 'earn and learn' development programmes, helping people develop meaningful career paths."