24 April 2021
The award recognises either a school, college, or university refurbishment project that has made a difference to the educational or research experience. 
LSA is a sixth form free school for 1000 students aged 16 to 19 years old. Founded by some of the UK's most successful film producers and backed by Working Title Films LSA will be housed in an incredible 85,000sq ft space. 
LSA is redefining what creative education means through a partnership between some of London's premiere teachers and professionals working in film and TV today in the UK and beyond. All LSA students study the University of the Arts, London (UAL) Level 3 Extended Diploma; this qualification is equivalent to three A-Levels and provides students with a broad knowledge of the many skills and disciplines within the screen industries.
Disused and abandoned, this former 1920s radio and television factory in Islington was teeming with historic value, its long-forgotten potential hidden from all but the most ardent developers. LocatED preserved the heritage facade, lessening the impact on the local area and keeping the location's historic grain intact, while undertaking a dramatic internal reconfiguration to make the building work for the LSA.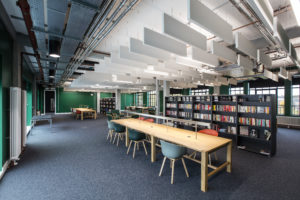 By stripping back the internal frame of the building, and reworking the multi-storey industrial space,  replacing it with a three-storey professional film production studio and supporting facilities, we have created spaces that will grow with the ambition of this school, surrounded by truly versatile teaching and workshop spaces. Bringing the inside out, we created a whole new rooftop courtyard, to show film screenings,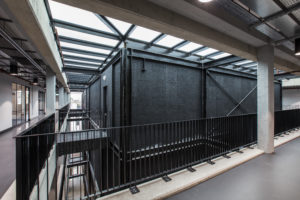 for informal gatherings and events as a versatile social space, and allow students never-before-seen views over London. 
We are immensely proud of our work with the LSA and to be part of a project where the sky is, truly, the limit.
Learn more about the LSA below: