LocatED GRADUATE SURVEYOR PROGRAMME
LocatED's Graduate Surveyor Programme provides a mix of hands-on practical experience, structured learning and development to support graduates to complete the Assessment of Professional Competence (APC). Graduates that complete the training and pass the APC gain membership to the Royal Institution of Chartered Surveyors (RICS).
Graduates join LocatED with a defined learning plan. This includes rotations in LocatED's acquisitions, planning, development and asset management functions, as well as time spent on placement at the government's Valuation Office Agency.
Graduates are provided with ongoing one-to-one support and mentoring whilst playing a valuable role as part of the LocatED team to deliver its services.
What the Graduate Surveyor Programme offers
25 days annual leave
Matched pension contribution up to 6%
Opportunity to earn up to 10% bonus in a performance related pay scheme
Access to high quality training and professional development opportunities
Two day each year to volunteer with a charity of your choice
Eligibility Requirements
5 GCSEs Grades C and above (including English and Mathematics)
3 A levels Grades C or above
RICS accredited degree at 2:1 (or higher)
Good oral and written communication skills
Strong IT capabilities in Microsoft packages
How to apply
Graduate vacancies will be advertised on our current vacancies page
GRANT'S STORY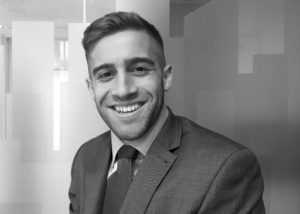 "I thoroughly enjoyed the level of responsibility that I was given from the beginning of the graduate programme. I was trusted to lead on different parts of projects working directly with our clients and consultants. The experience of working across the different teams gave me the breadth of knowledge I needed to pass my APC first time round. I really appreciate the support and guidance that I received from my colleagues during the APC process."

Grant Shulton, Graduate Surveyor
Grant joined LocatED in December 2017 as a Graduate Surveyor. Grant passed his APC on his first attempt in November 2019 and since then has been working as part of the Acquisitions Team leading on acquisitions and disposals across the south of England. During Grant's graduate rotation, he worked in a variety of teams at LocatED and also gained further experience during his placement with the Valuation Office Agency. 
Grant has had the chance to be involved in a number of complex property deals, including arranging new asset management initiatives, purchasing and disposing of sites, and carrying out a number of development appraisals for a new innovative pilot scheme with the Department for Education. Grant operates at a level beyond his experience and is an extremely valuable part of the team.
Grant applied for the LocatED Graduate Surveyor Programme because he wanted the opportunity to make a positive influence in the property market and felt that working at LocatED on the delivery of new schools would give his role value and social purpose. He gets great job satisfaction knowing that the sites he has been involved in acquiring and managing will ultimately be used to benefit future generations.